Nieuws
Amerikaanse hitband Earth, Wind & Fire Experience ft. Al McKay schittert in Nederlandse theaters
Met uitverkochte shows in Poptempel Paradiso in Amsterdam en Poppodium Gebouw-T in Bergen op Zoom en een goed gevuld Openluchttheater Hertme zijn de eerste drie shows in Nederland van de European Earth, Wind & Fire Experience Tour 2014 ft. Al McKay zeer succesvol verlopen. Onder leiding van leadgitarist/producer en hitschrijver Al McKay wist de 13-koppige Amerikaanse superband haar reputatie van 'beste live-act' meer dan waar te maken. Het enthousiaste publiek werd getrakteerd op een dynamische show waarin niet alleen alle wereldhits zoals o.a. Boogie Wonderland, September en Fantasy zaten verpakt, maar werden ook de beste albumnummers met volledige overgave de zaal in gespeeld. Met uitgekiende arrangementen waarin alle individuele muzikanten de ruimte kregen hun 'moment of glory' te pakken wist de band het publiek op indrukwekkende wijze mee te voeren langs de vele muzikale hoogtepunten van Earth, Wind & Fire.
Na het grote succes van deze drie concerten heeft Artists & Bands i.s.m. EB Theater besloten Earth, Wind & Fire Experience ft. Al McKay in november 2014 voor vijf shows weer naar Nederland te halen. Voor wie het in september gemist heeft, geeft deze Amerikaanse hitband nog vijf concerten in de intieme sfeer van de volgende theaters: op 6 november in Muziekgebouw Frits Philips in Eindhoven, 7 november in De Vereeniging in Nijmegen, 8 november in Theater De Meenthe in Steenwijk, 10 november in Nieuwe Luxor Theater in Rotterdam en 12 november in Odeon De Spiegel Theater in Zwolle.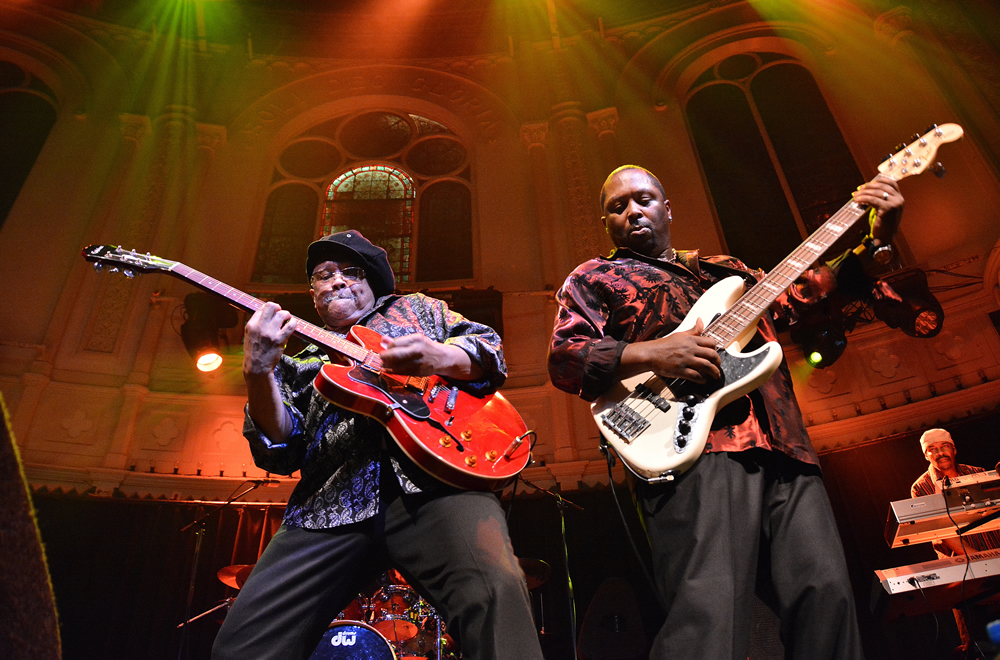 Al McKay werkte samen met Maurice White aan het herkenbare geluid van Earth, Wind & Fire, wat de groep het sterrendom bracht. Al McKay was niet alleen de muzikale regisseur en producer/hitschrijver van deze legendarische soulformatie, maar ook de co-composer van veel hits van andere bands. In de jaren '80 kwam er een einde aan de samenwerking tussen Maurice White en Al McKay. Al McKay begon een nieuwe band met zeven van de dertien originele leden van de legendarische band: Michael Harris, Andrew Wolfolk, Freddie White, Johnny Graham, Larry Dunn en Verdine White om de Earth, Wind & Fire belevenis voort te zetten met nieuwe zangers, onder de toepasselijke naam 'Earth, Wind & Fire Experience'. Nu Maurice White wegens gezondheidsredenen niet meer optreedt, is McKay vastbesloten het muzikale nalatenschap van Earth, Wind & Fire te continueren, wat Earth, Wind & Fire Experience naar ongeveer alle grote jazzfestivals over de hele wereld bracht! Al McKay won vijf Grammy Awards en is opgenomen in de Rock and Roll Hall of Fame en in de Songwriters Hall of Fame.
De bandbezetting tijdens de 'European Earth, Wind & Fire Experience' Tour 2014 bevat naast Al McKay de volgende topmuzikanten:
Bruce Conte (guitar) - Bruce was a member of Tower of Power and has toured with George Benson, Santana, Sly Stone and the Rolling Stones.
Ben Dowling (pianist, composer, synthesist) - Noted session keyboardist in Los Angeles and one of the pioneers of sound synthesis, is a member of Korg's famed international synthesizer sound-voicing team. Has done extensive programming for some of the world's most influential artists including: Jon Anderson, Keith Emerson, Don Henley, Michael Jackson, Madonna, Joe Zawinul and more. Has performed as keyboardist with Mindi Abair, Carl Anderson, Alex Acuna, Victor Bailey, Ndugu Chancelor, Ellis Hall, Joey Heredia, Alphonzo Johnson, Bobby Lyle, Stephen Stills, Narada Michael Walden, etc - in addition to touring worldwide with 'Earth, Wind & Fire Experience' feat. Al McKay for the past ten years."
Michael Harris (trumpet) - Michael was an original member of the Phenix Horns touring with Earth Wind and Fire and Phil Collins. He was also worked with Genesis, The Jacksons, Little Richard, Curtis Mayfield, Ramsey Lewis, Philip Bailey, The Whispers, Stanley Turrentine, Denise Williams, Emotions, Mary Wells, Jermaine Jackson and Lenny Kravitz to mention a few.
Hussain Jiffry (bass guitar) - Husasin was born in Sri Lanka. He has recorded with Tom Scott, Jim Messina, David Foster, Michael McDonald, Phoebe Snow, Whitney Houston, Carol King, Michael Bolton, Helen Reddy, Bobby Brown, Steve Winwood, to mention a few.
Tim Owens (vocals) - Tim has worked with Dave Koz, Rod Stewart, Destiny's Child, K-Ci & JoJo, Michael Jackson and Wynton Marsailes.
Claude Woods (vocals) - Claude is the youngster of the group. He has worked professionally as a musician and vocalist doing sessions and commercials in the Southern California area.
Joey DeLeon (percussion) - Joey attended the New York School of music and since turning professional has toured and recorded with Tito Puente, Alex Acuna, Bobby Shew, Poncho Sanchez and Raphael.
Tony Coleman (keyboards, song writer, arranger and producer) Tony is a two time Grammy Award winning song writer, Multi-Grammy nominated Producer and has been a session musician for some of the most famous artist in the history of the music business. He has recorded for Anita Baker, Ray Charles, James Cleveland (King of Gospel), The Clouds of Joy, The Emotions, Aretha Franklin (Queen of Soul), Leon Haywood, James Ingram, The Pointer Sisters and Stanley Turrntine. Tony has performed live for and with Oletta Adams, K-Ci & JoJo, Lou Rawls, Smokey Robinson & The Miracles, Carly Simon, BeBe Winans and The Winans (First family of Gospel), The Legendary Hawkins Family, Stevie Wonder and Elvis Presley (King of Rock 'N Roll). Tony's first love has been touring worldwide with 'Earth, Wind & Fire Experience' feat. Al McKay for over ten years.
Wendell Kelly (trombone) - Wendell has toured or recorded with Whitney Houston, The O'Jays, Stevie Wonder, Lionel Richie, En Vogue, Connie Francis, Engelbert Humperdinck, Leslie Uggums, Patti LaBelle, Lou Rawls, Natalie Cole, Toni Tennille, Little Richard, Ray Charles, Phil Upchurch, Joe Williams, Dan Ackroyd, Frank Sinatra to name a few.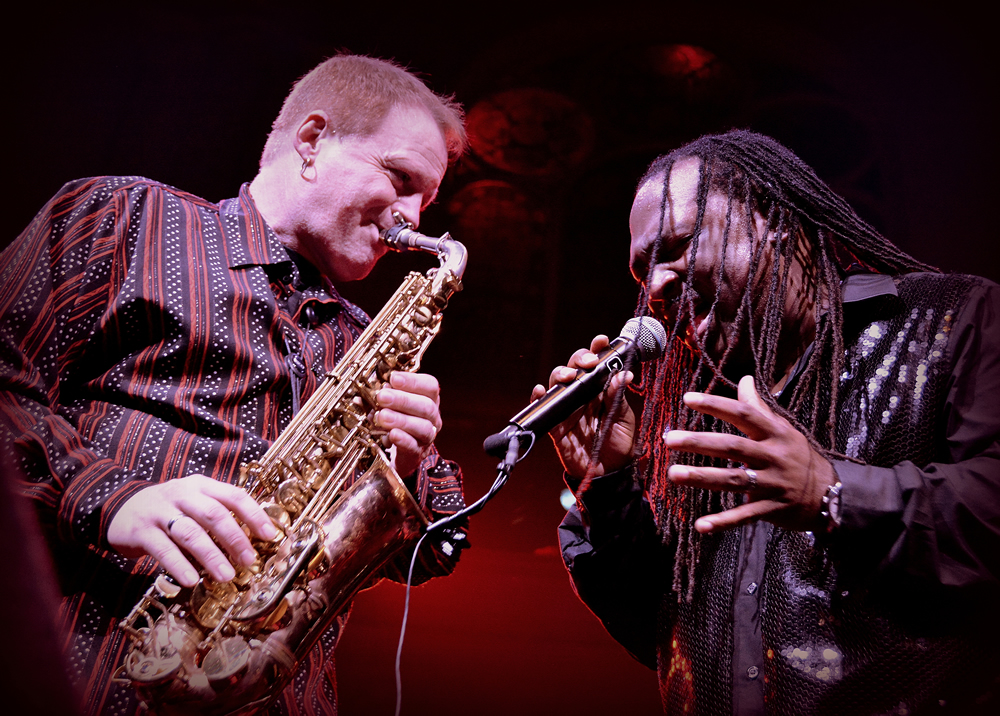 Ed Wynne (saxophone) - Ed Wynne is a highly regarded composer for Film and Television in Los Angles writing music for the likes of Columbia Tri-Star, Disney, A&E, The WB, FOX, ABC, Hallmark Entertainment and many more. In addition to his many writing credits Ed has toured or recorded with The Doobie Brothers, Ellis Hall, Wayne Brady, Frankie Valli and the Four Seasons, Patrice Rushen, Buster Poindexter, Bill Medley, Mary Wilson, The Drifters, Keb Mo', The Platters and Ronnie Laws to name just a few. Ed has been the saxophonist for the 'Earth, Wind & Fire Experience' feat. Al McKay since 2002.
Bill Churchville (trumpet) is probably best known for his 6 year run as trumpet soloist and horn arranger for the legendary soul band Tower Of Power. A 20 year veteran of the Los Angeles music scene, Bill has performed, recorded, arranged for and toured with many of the top recording artist in the industry including Elton John, Bob Dylan, Billy Joel, Al Green, Carol King, Jerry Lee Lewis, Joe Cocker, Keith Richards, Willie Nelson, Clint Black, Aaron Neville, Rickie Lee Jones, Les McCann, Shakira, Sammy Hagar, Joe Louis Walker and many others.Bill is also a performer and writer for television and film and has been featured on many top Hollywood films including, "Batman Begins", "Spiderman II", "Swordfish", "The Core" and "Disney's Country Bears", "Best in Show", "Monkeybone", "Four Weddings and a Funeral", just to name a few. His television credits include, "Late Show with David Letterman", "Boston Legal", "Third Watch", "Allie McBeal", "Karen Sisco", "A & E Live by Request" with Clint Black, "Kid Notorious", "Mad TV", "Angel", "10-8", "Dharma and Greg", "ABC Monday Night Football", NBC "Extra" Theme, The Disney Channel, and HBO's "Sinbad's Summer Jam ll." Bill is an artist/clinician for Conn/Selmer trumpets.
DeVere Duckett (vocals) - DeVere toured or recorded with Vanessa Williams, Barry White, KC and JoJo, Howard Hewitt and Michael Bolton to name a few.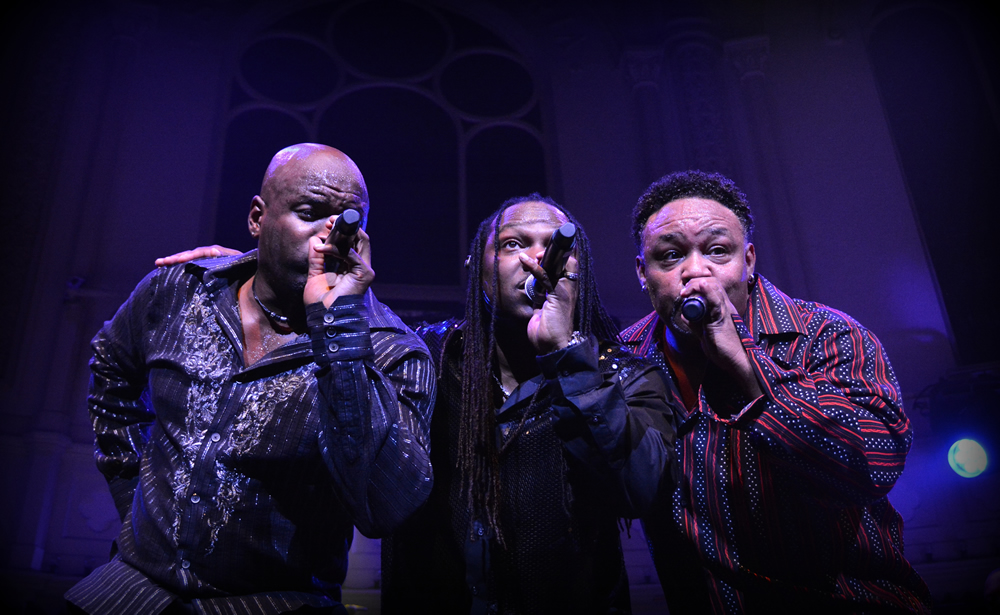 In 2011 beleefde Earth, Wind & Fire haar 40-jarige jubileum en dat werd groots gevierd. Een nieuwe verzamel-box verscheen en ook daaruit zal tijdens deze concerten materiaal worden gespeeld. Na hun geweldige shows in 2010, o.a. in een uitverkocht Paradiso Amsterdam en 013 Tilburg en in 2012 in uitverkochte zalen als o.a. Paard van Troje in Den Haag en Podium de Vorstin in Hilversum komt de 'Earth, Wind & Fire Experience'- tour 2014 terug in ons land om opnieuw Nederland te verwennen met grandioze concerten en het publiek de jaren '70 opnieuw te laten beleven.
Donderdag 6 november 2014: Muziekgebouw Frits Philips, Heuvel Galerij 140 in Eindhoven. Zaal open: 20.00 uur, aanvang: 20.15 uur. Kaarten in de voorverkoop zijn € 39,50 (excl. servicekosten) via www.muziekgebouweindhoven.nl en www.artistsandbands.nl.
Support-act: Pop, Rock coverband Cups and Plates uit Middelbeers.
Vrijdag 7 november 2014: Concertgebouw De Vereeniging, Keizer Karelplein 2d in Nijmegen. Zaal open: 20.00 uur, aanvang: 20.15 uur. Kaarten in de voorverkoop zijn € 45,- (excl. servicekosten) via www.stadsschouwburgendevereeniging.nl en www.artistsandbands.nl.
Support-act: Disco, Dance Classics coverband ClubSoda uit Nijmegen.
Zaterdag 8 november 2014: Theater De Meenthe, Stationsplein 1 in Steenwijk. Zaal open: 20.45 uur, aanvang: 21.00 uur. Kaarten in de voorverkoop zijn € 45,- (excl. servicekosten) via www.demeenthe.nl en www.artistsandbands.nl.
Support-act: Soul, Funk coverband Soul XS uit Beilen.
Maandag 10 november 2014: Nieuwe Luxor Theater, Posthumalaan 1 in Rotterdam. Zaal open: 19.45 uur, aanvang: 20.00 uur. Kaarten in de voorverkoop zijn € 35,- (excl. servicekosten) via www.luxortheater.nl en www.artistsandbands.nl.
Support-act: Dance Classics coverband NoisesRback uit Den Haag.
Woensdag 12 november 2014: Theater Odeon De Spiegel, Spinhuisplein14 in Zwolle. Zaal open: 20.00 uur, aanvang: 20.15 uur. Kaarten in de voorverkoop zijn € 30,- (excl. servicekosten) via www.odeondespiegel.nl en www.artistsandbands.nl.
Support-act: Funk & Soul coverband CoverUp uit Delft.
'Earth, Wind & Fire Experience Tour 2014' is een produktie van Artists & Bands i.s.m. EB Theater. Wilt u meer informative over deze produktie, neem dan contact op met John Van den Borne via john@artistsandbands.nl of 06-46181124.